PROPERTY UPDATE SEPTEMBER 2022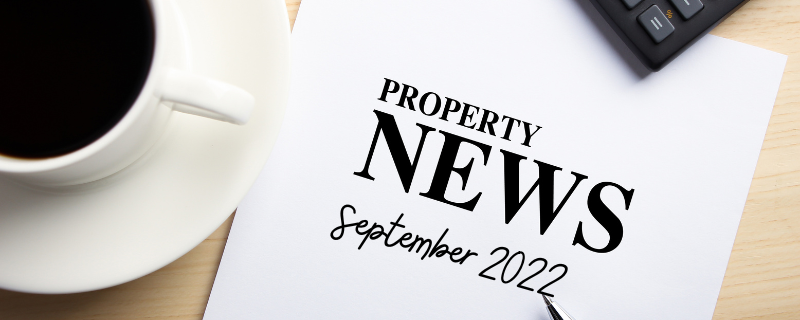 The biggest hike in interest rates for more than 30 years is expected later this month, a surge in buying activity has been reported by some estate agents in August, while renters are turning to smaller properties to cope with the cost of living crisis.
Read on for all this and more in your September property market update from fw estate agents.
Interest Rates Rise
The Bank of England revealed the new base interest rate on 22nd September, with a significant rise from the previous 1.75% rate. Rates increased by half a percentage point to 2.25%.
The move is an attempt to slow the rate of rising prices, but interest rates have not been this high since the 2008 financial crisis. This increase will undoubtedly bring some worry for many borrowers.
The rates are likely to rise again in November and December, with many economists expecting the rate to hit 3% by the end of the year, and potentially as high as 4.5% by next summer.
The hike in rates is designed to try and keep inflation under control, as it's currently running at 9.9% – almost five times higher than the Bank of England's target of 2%.
Stamp Duty Falls
In a bid to help buyers, the government has announced a cut in stamp duty. This is the tax that must be paid when buying a property in England and Northern Ireland.
The threshold has been raised to £250,000 from its previous level of £125,000, and the threshold for first-time buyers has been increased from £300,000 to £425,000.
The new chancellor Kwasi Kwarteng also increased the value of the property on which first-time buyers can claim stamp duty relief. This increases from £500,000 to £625,000.
Energy Bills To Be Frozen For 2 Years
In good news for homeowners and tenants, new Prime Minister Liz Truss has revealed the Government's energy plan to help tackle the rising cost of living crisis.
Under the plans, the Energy Price Guarantee will mean that the average energy bill will be frozen at £2,500 for the next two years, starting from October, far below the previously proposed £3,549 price cap set by Ofgem. This is in addition to the one-off payment of £400 that all households will be entitled to as well,
While it's still an increase on the current price cap of £1,971, the news has come as a relief to millions of households who were facing a very tough winter under the previous plans.
The new scheme is expected to cost the government around £150 billion – a cost which is likely to be passed on to taxpayers in years to come.
Estate Agents Reporting 'Buying Frenzy'
Some estate agents have been reporting a flurry of activity on properties in recent weeks, as many buyers look to secure a mortgage deal before interest rates increase again later this year.
Several large agencies have revealed a string of new properties coming on to the market, along with a big increase in buyers, with one major agent revealing their busiest August in London for 10 years.
While the late summer surge has temporarily halted the expected slowdown in the property market, demand is expected to slow significantly in the coming months, as the UK heads towards a likely recession.
Renters Looking For Smaller Homes To Combat Cost Of Living Crisis 
Data released by leading property website, Zoopla, has revealed a sharp increase in the number of renters looking for smaller properties.
Their figures have revealed a significant shift in searches from three-bed houses to two-bed flats, as renters look to reduce their outgoings.
Average rents have increased by £115 per month over the past year, with the rise outpacing earnings growth nationwide. And with the difference in rents on a two-bed flat and a three-bed house being £105 per month outside London, it's clear to see why renters are looking for smaller properties.
The increase in rental prices is being fuelled by a major shortage of properties available, with rental stocks sitting at around half the numbers typically available in the past five years.
UK's Highest-Yielding Areas Revealed
Property portal, Zoopla, has revealed the top 10 hotspots for investors in the UK, with all of them concentrated in Scotland and northern England.
East Ayrshire tops the list, with gross yields of 8.48% on properties which have an average value of £71,334.
In fact, all of the top five areas are in Scotland, with the highest-yielding area in England being the north west town of Burnley – gross yields there sit at 7.92%, with average property values at £74,681.
Perhaps unsurprisingly, the lowest-yielding areas of the country can mostly be found around the capital. Kensington and Chelsea is the worst-performing area for landlords, with gross yields of 3.3%, against average property values of £1,171,159.
The City of Westminster, Richmond Upon Thames and the City of London all feature in the top 10 as well.
For more property news and updates and a more detailed overview of the Kent, Surrey and Sussex  area, get in touch with fw estate agents. We are your local property experts. Call us on 03300430472 or email contactus@fwestateagents.com.